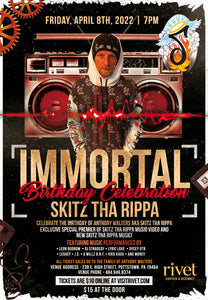 Important - This show is not sold out. Click or Copy and Paste the link below into your browser to purchase tickets for this show.
https://www.eventbrite.com/e/immortal-skitz-tha-rippa-memorial-birthday-celebration-at-rivet-tickets-278291576597?aff=LeonBudrow
Join Leon to celebrate the Birthday and Legacy of his good friend Anthony, aka SKITZ THA RIPPA on Friday April 8th at The POTTSTOWN RIVET!!

There will be a full lineup of musical performances, raffles, and exclusive music and video releases in Anthony's honor!!
This is not a night that you will want to miss!! All ticket sales, raffles, donations and proceeds will go directly to Anthony's family - Tickets are ON SALE NOW at the link below!! 

Limited Time Offer - Direct Message your Immortal Birthday Celebration Ticket Confirmation to Leon on Social Media to receive an exclusive discount code for 25% off Leon's entire site, including 25% off all merch and the O-Town show ticket!