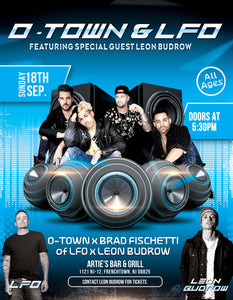 Don't miss Leon Budrow performing with Platinum Recording Artists O-Town and LFO at Artie's Bar & Grill in Frenchtown, NJ.
Save money by purchasing your tickets here, directly from Leon Budrow to avoid the $5.16 online tax and site fees!
Note - Your ticket will be held at venue will call.
Show Date - Sunday September 18th, 2022
Venue - Artie's Bar & Grill
Address - 1121 NJ-12, Frenchtown, NJ 08825
Doors - 5:30pm
All Ages Show